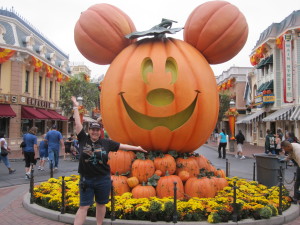 Can you draw? Whenever anyone ever asked me that I always said, no. I told them I couldn't even draw good stick figures. I wasn't being modest. I thought it was true. I was terrible at drawing. So imagine my surprise when I learned to sketch at The Magic of Disney Animation at Disney's Hollywood Studios. While it was true that my Mickey Mouse wasn't perfect, it wasn't horrible either. I learned that I may not be able to draw, but I could sketch something that made me happy.
In honor of Mickey Mouse's birthday, he is 85 years old today, I encourage everyone to try sketching Mickey Mouse. To help you do this well click on this video from spoonful.com and get a lesson from the experts. The nice part about learning from a video instead of being there in person is you can watch the animator over and over until you understand what he is doing. The goal here is not to draw the best looking Mickey Mouse ever. It is to sketch a Mickey Mouse face that makes you happy. I think if you are being creative but you are not happy then you are doing it wrong. And Mickey's birthday is definitely a day to be happy. Happiness squared.
Goofy Craft: Once you have sketched Mickey Mouse don't put your creation in a drawer. Turn it into a birthday card, or a place mat, or put it in your Disney scrapbook. If you see it a lot you'll be encouraged to do more, and the more you sketch the better you'll get. Remember this, if I, a non-drawer, can sketch, than you can do it, too.