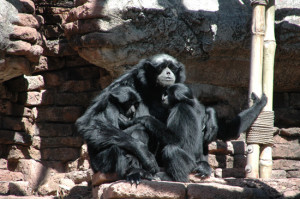 Happy Father's Day to every guy who is important to a child. I found a wonderful example of a good dad on the Disney Parks Blog. It has to do with my favorite primate, the siamang.
You can see siamangs at Disney's Animal Kingdom. They live in the enclosure that looks like a ruined tower with lots of ropes just as you enter Asia. I could stand there all day and watch them swing around. They also make an incredibly loud noise that I like to imitate. (Usually people beg me not to.)
Check out this post to learn about Kenny, a male siamang, who cares for his two twin daughters, Violet and Veruca. The picture is very charming. You can also learn some fun facts about siamangs.
So to all the dads out there of any species, I say thanks for all you do for your kids. Happiness squared.
Disney Craft: Do you need a last-minute Father's Day card? Do not go running out to Hallmark. Instead make one of these awesome cards that are sure to make Dad smile.