It's beginning to look a lot like Christmas Everywhere you go…  
Why did you cut me off? I love that song. Oh, it's summertime, not Christmastime? No one wants to think about Christmas when the days are long and the sun is warm. Well, I've got a really goofy idea then. I want you to think about Christmas when you take your next Disney vacation.
One obvious way to think about Christmas is to buy all your Christmas gifts while you are at the parks. While I think this is a good idea – if you find the perfect item – it might be easier to shop at disneystore.com and have them ship the gifts wherever they need to go. No, my idea is way more goofy and lots of fun.
I want you to have a picture taken of your family while you are at the Disney parks that you will use as your Christmas photo card. Simple, you say. We take lots of group pictures. Yes, but for a picture that everyone will be talking about I want you to get creative.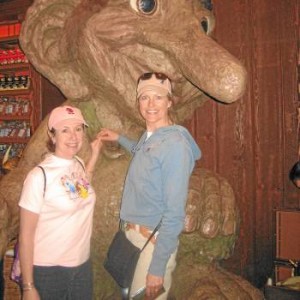 Five ways to take a Christmas photo in the summertime:
1) Take your picture in front of a snowy mountain, like the Matterhorn at Disneyland, or Expedition Everest at Disney's Animal Kingdom. Or pick a northern country in World Showcase like Canada or Norway and find a wintry background.
2) Wear a special sweater. You could color coordinate them or have each person wear a crazy design. Carry the sweaters in a bag and put them on for the picture. You can then store them in a locker for the rest of the day.
3) Have everyone wear a Santa's hat. Again, these can match, or each person can have their own style. Disney makes some great ones with character ears on them. This can be a fun way to have your picture taken with Mickey Mouse or any character you meet and greet. It adds a Christmassy look to any picture.
4) Hold a sign that says "Merry Christmas" or any phrase you choose. Make sure it is big enough to be read in the photo.
5) Have your picture taken inside a Christmas shop. Both Disneyland and the Magic Kingdom have Christmas stores. You'll have an instant background year round.
These ideas can be used by themselves or in any combination you want. Be sure to have a Guest or a Cast Member take a photo of your whole group. When others see what you are doing they may want to do it themselves. Happiness squared.
Goofy Tip: All these ideas take a little planning. If you want a simple way to get a Christmassy Disney picture, just visit the parks at Christmastime. The parks get decorated for Christmas in November so you'll have lots of time to take the perfect picture and turn it into a memorable Christmas card. Even if you don't go for the picture the Christmas season is a fun and festive time to see the parks. Plan to go before the schools are on winter vacation and the parks are less crowded.