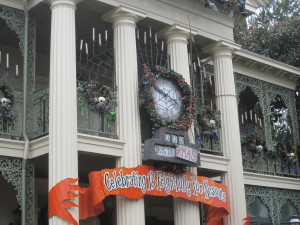 Today is Friday the 13th so I thought it was the perfect day to talk about the spookiest holiday treat you'll ever experience. Yes, I am talking about the Nightmare Before Christmas overlay at the Haunted Mansion at Disneyland. Is it naughty? Is it nice? Is it worth seeing? Well I finally got to experience it so I'll make my list and check it twice.
Before I get to my answers I have a question for you. Do you like the movie The Nightmare Before Christmas? If your answer is no, if you thought it was the worst movie ever made, than skip the Haunted Mansion until January. Because this overlay is a complete remake. Disney changed out everything. From the intro, to the elevator ride, to the hallway, to the scenes viewed from the doom buggies, everything is different.
I am blah about the movie. It's okay but I would not pick it to watch by myself. It happens to be one of my husband's favorite movies so I have seen it many times. Therefore, while I wasn't thrilled before I went on the attraction, I wasn't repulsed.
Okay, enough stalling. Is it good? I would say yes. They did a wonderful job of bringing the story and the characters to life. It is very different but I actually enjoyed the changes more than I enjoy the movie. I would recommend everyone see it once, unless you absolutely despise the movie, so you can form your own opinion.
I only had one problem with the overlay and if you visit the park this December you won't have this problem. I rode the attraction in September and even though Jack and his friends live in Halloweentown there is nothing about the overlay that made me think of Halloween. There are pumpkins but they are decorated for Christmas. It felt a little odd being immersed in Christmas in September. I'm sure that the discomfort I felt would disappear if I saw it again in December.
So take a chance. If you are visiting Disneyland go see the Nightmare Before Christmas overlay at the Haunted Mansion. It may become your favorite seasonal event or you may look forward to the 999 happy haunts taking back their home in January. Either way you're sure to have a spooky time. Happiness squared.
Goofy Tip: If you want to have unique Christmas photos for your cards then stand in line and have your picture taken with the characters from The Nightmare Before Christmas. Jack, Sally, and others can be found outside the Haunted Mansion all season long. Jack is even in his Santa costume. Scary and merry!