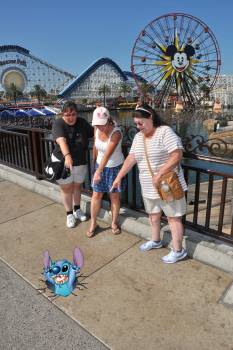 YES!!!
Okay, maybe I should explain more. PhotoPass+ is available at both Disneyland and Walt Disney World. I have used it at Disneyland so that is what I'll be talking about. The program at Walt Disney World is similar, but the price is higher so you'll have to decide if it is worth it there. I can tell you it is definitely worth it if you are visiting the Disneyland Resort.
What is PhotoPass+ and why am I so impressed with this program? If you've read A Goofy Idea for a while then you know that PhotoPass is a free program where Disney Photographers scattered around the parks will take your picture with their camera or yours. You don't pay anything unless you buy the pictures online after your trip. With PhotoPass+ you pay ahead of time and receive a lanyard and a code. While you are at the parks the Disney photographers will take your pictures and scan the card on your lanyard. When you get home you enter your code into the Photopass website and you receive all the photos taken of you in the parks for no additional charge.
That is an overview of the program; below I list five reasons why this program is definitely something you should sign up for before your next trip to Disneyland.
5 reasons to join the Photopass+ program:
1) You get more photos from the photographer. When you approach a Disney photographer hand them your Photopass+ lanyard before you start so they know you are part of the program. When you do they will take lots of pictures of you. Our photographers would take pictures of us standing still and then have us gesture in different ways. They would take 6 to 10 pictures of us at a time. The cool part was we received them all when we got home so we could pick out the best to use.
2) You get stock photos.  When you get home you can order all of your Photopass+ pictures and receive them as a download or in the mail on a CD. Along with your photos you get a selection of stock photos of Mickey and the gang at various locations throughout the parks. Since Cars Land had just opened we also received pictures of Lightning McQueen and Tow Mater. These photos were very useful when I created our photo album.
3) You get all the ride photos. Along with the photos that the Disney Photographers take you receive all the photos shot of you on the attractions. These photos are around $15 each to buy separately, but they are free with the Photoplus+ program. Along with the great savings you also have the convenience of having the photos sent to your online account instead of carrying the photos around the park.
4) You save a ton of money. Without the program you would pay around $99 for a disc of your Photopass photos, and extra for any ride photos you receive. If you bought all the photos it could come to over $150. I admit that I usually didn't buy any of the Photoplus photos and rarely bought a ride photo. I missed out on some great pictures, but could never justify the cost. If you sign up more than 14 days before your vacation you can order the Photoplus+ package for $69.99. That is an amazing deal. I only learned about the program three days before I left so I bought the program in the park and paid $99.95. That is still a good deal when you realize that I got over 50 photos of my group taken by Disney Photographers, all the ride photos, and all the stock photos. This is a bargain not to be missed.
5) You get to have everyone in the photos. This might be the best reason to sign up for the program. It's wonderful that you save so much money, but the ability to have photos that include everyone in your group is priceless. I have too many vacation pictures that look like Dad didn't travel with us because he was taking all the photos. With the Photopass+ program I have great memories of our whole group having a happy time at Disneyland and Disney California Adventure.
I hope I have convinced you that this program is a must-have. To learn more about the program and to sign up click here for Disneyland and here for Walt Disney World. Like I said, it is more expensive for Walt Disney World, but I think I would sign up for it there, also. First, because there are more ride photos to receive, and second, because I use the Disney Photographers a lot more with Photopass+ than I ever did without it. Happiness squared.
Goofy Tip: When you get home from your Disney vacation you may be absorbed with catching up at work and home, but don't forget to order your Photopass CD. You only get 30 days to download your photos and it would be a shame to lose them. Put your lanyard somewhere visible to remind yourself to go to the Disney Photopass website as soon as possible.