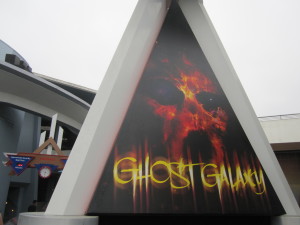 It has been a really long time since I visited a Disney park during the Halloween season so until this year I never rode Space Mountain when it had the Ghost Galaxy overlay. The Ghost Galaxy overlay has spooky music and scary faces on the ride to make it more thrilling.
Space Mountain is one of my favorite rides and I like the Disneyland version better than the Magic Kingdom version because it is darker and has a more traditional feel to it. I was eager to finally experience Ghost Galaxy and I hoped it would be great. Now that I have ridden it I can say yay or nay. Sooo…yay or nay?
Well, I have to say yay and nay. It was cool and spooky, but it did not improve the attraction. I didn't get off Space Mountain and immediately want to ride it again, which I do sometimes when the attraction has no overlay. Since I am of the opinion that an overlay should make the ride better I would be fine if Ghost Galaxy disappeared, but I would still ride the attraction with it there.
I hope I have not confused you. It was okay so I would recommend you ride Space Mountain if you want to, but don't make special plans just to experience Ghost Galaxy. I personally missed the giant chocolate chip cookie asteroids. Happiness squared.
Goofy Tip: The day I went to Disneyland the lines were extremely short but I still Fastpassed Space Mountain. When my time came I was able to walk almost to the front of the line with no stopping. If you don't want to stand in any line, even a short one, I recommend Fastpass.