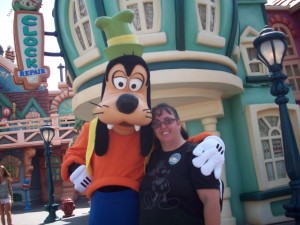 You may have heard that ticket prices to Disneyland and Walt Disney World are going up. Touringplans.com has a great chart for each park. Click here to see Disneyland's prices and click here to see Walt Disney World's prices. At first glance they seem really high. How can anyone afford to go to the Disney parks anymore, especially if you have to pay for everyone in your family? For me it is all about priorities and choosing how I spend my entertainment dollar.
I am going to use a one-day one-park ticket to Disneyland as an example. An adult pays $92 for a one-day visit. Hours vary at the park, but I for my example I am saying that the park opens at 9 a.m. and closes at 9 p.m. so you can visit for 12 hours. You would be paying $7.66 for each hour you visit. Does that sound better? Let's compare it to other ways you can spend your fun money.
To go to  a2D  non-matinee movie at Regal Cinemas is $10.50. If an average movie is 2 hours long you pay $5.25/hour. A better value than Disneyland, but which gives you more lasting memories?
To see the Book of Mormon in New York City, a 2 1/2 hour play, you pay between $168 – $312 or $56 – $104/hour. I would think this would be a memorable event and I hope it is worth the price. Interestingly, at Disneyland you can also see plays that are pretty amazing and they are included in the price.
To see Carrie Underwood in concert costs an average of $59.83 a ticket for around a 4- hour concert. This event costs you $14.95/hour. This might be very memorable for you, but you can also see live bands at Disneyland, again as part of that one price.
Now, you might consider going to see the Dodgers. Prices range (not counting really expensive box seats) from $6 to $90. An average game may last 4 hours so this is a bargain at $1.50 – $22.50/hour. A $6 ticket cannot be beat, but your seats may be so high up that you'd be better off watching the game at home. Trust me, I have sat in these seats. I hope you're not afraid of heights.
Obviously, I have a bias. I would rather go to Disneyland than just about anywhere else. And I know you have to pay for travel, parking, food, and souvenirs, but you are going to do that at any of the events I listed.
I tried to compare events that were similar in entertainment style and costs. I love to go hiking and that doesn't cost hardly anything, but I don't think a visit to the forest is the same type of entertainment as a trip to Disneyland so I didn't make that comparison.
I guess my point is that even with the prices going up Disneyland still give you a good deal for your entertainment dollar. You get thrilling rides, great live shows, wonderful music, face time with characters you love, fantastic photos, and a day that you will not forget anytime soon in a park known for its cleanliness and family values. Is that worth it to you? It is to me. Happiness squared.
Goofy Tip: My best suggestion for saving money on tickets is to not go for just one day. The more days you visit the more money you save. A 5-day park hopper is $300. If you still figure 12 hours day for 5 days than the average price goes down to $5/hr. That is a pretty good price, and you have lots of time to see everything at Disneyland, Disney California Adventure, and Downtown Disney. (And did I mention that Downtown Disney is always free to visit!) Become an annual passholder and the price can drop even more depending on how often you visit (and some levels include free parking, another savings.) Do a runDisney event and you get discounts, too. It isn't hard to save money on tickets, it just takes research, and maybe a little pixie dust.