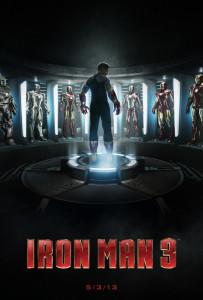 Iron Man is coming to Disneyland! No, I don't mean Tony Stark is coming to ride Space Mountain, although I think it would be funny if, (spoiler alert!) at the end of the Avengers when Iron Man pushes the nuclear bomb into outer space, he yelled, "I'm going to Disneyland!" But no, what is actually coming is much cooler.
Iron Man Tech Presented by Stark Industries is coming to Innoventions in Tomorrowland at Disneyland. Innoventions is inside the building that used to hold America Sings! and now has interactive exhibits sponsored by different companies. When you play in each area you learn how the future might look.
Stark Industries is joining the line-up with Iron Man Tech. You will be able to see the Iron Man suits and actual sets from the movie that is coming out May 3. Even cooler you'll get to try on the suit using virtual technology. To learn more about this exhibit check out the article at the Disney Parks Blog.
Innoventions has always been one of the forgotten attractions. Now I expect it will be a must-see. Get there early to avoid the lines. Iron Man Tech Presented by Stark Industries opens April 13. I don't know when it closes so make plans to visit soon. Happiness squared.
Goofy Tip: Once you have seen Iron Man Tech don't go rushing to the next ride. Innoventions is full of fun games and exhibits. You can drive a car a 300 miles an hour. Dorian Grey will show you what you will look like in 50 years. I expect that there won't be much wait for these exhibits so take some time to explore.