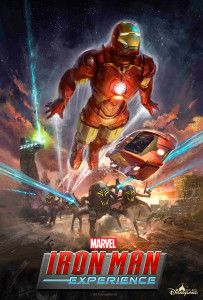 One of my many goals is to visit every Disney park in the world (and off planet when they get there). I didn't really care which park I visited first as long as I visited them all. But that has changed. Hong Kong Disneyland is now first on my list. Why? Because that park is getting the first Iron Man attraction. Luckily it is coming in 2016 so I have time to plan my trip, but Hong Kong here I come.
Disneyland currently has Iron Man Tech in Innoventions (I'll be giving my review of this experience in a future post) but it is not truly its own attraction, it is just part of the futuristic fun. I think an attraction that immerses you in the Marvel universe will be breathtaking. If you would like to get the details of this new attractions click here to see the post at the Disney Parks Blog.
Visiting Hong Kong Disneyland would be amazing for any reason, by adding Iron Man they made it my new Disney goal. Who wants to join me? Happiness squared.
Goofy TV: I plan to talk a lot more about this show, but if you need a weekly Marvel boost I suggest you watch Agents of S.H.I.E.L.D., Tuesday's on ABC. The story line is going places and the characters are really growing. Of course the real reason to watch is Agent Coulson and he rocks. I'm so glad he's not dead.