Limited Time Magic: In honor of President's Day The Voices of Liberty will be doing special shows at both Disneyland and at the American Gardens Theatre in Epcot. These special shows will include patriotic music and inspirational quotes from various presidents. At Walt Disney World they will be performing February 18-24. At Disneyland they will be performing February 18-19 and 22-24. For more information check out the Disney Parks Blog.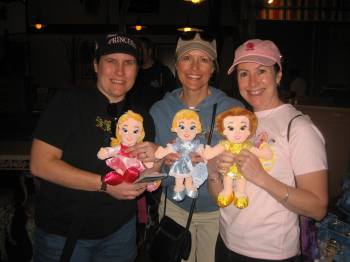 Everyone I know has a collection of some type, and if you are like me you have several. Some of my favorite collections are my Winnie the Pooh pewter figures, my crystal Disney bells, and my Sleeping Beauty ornaments. What I like best about these collections is that they don't take over my house. Each one is manageable and therefore more enjoyable. But I have some collections, like my rocks, that are harder to maintain. If your collection is causing stress in your life you might think the only thing to do is get rid of it entirely. But there are ways to keep a collection under control and therefore more enjoyable. And if you aren't enjoying your collection why are you collecting it?
5 ways to keep a collection from taking over your house:
1) Location. One way to limit your collection is to not add to it every time you can. I collect lucky cats, which are really easy to collect because they are sold at most tourist places. However, I only buy a lucky cat when I am in Chinatown, at the China Pavilion at Walt Disney World, or in China (which I am going to go to someday.) I know where I bought each piece and they hold the memories of that visit. Plus, instead of a hundred lucky cats, I only have 10.
2) Type. My brother collected die-cast cars as a child. He didn't have very many, but his collection could have been huge because there are so many cars available. One way to limit a collection like this is to only collect a certain type of the item. My brother could have collected only cars from the 1960s or just Fords. By limiting a collection by type the collection becomes more interesting as well as more manageable.
3) No gifts. My mother used to collect rabbits. Everyone gave her rabbit items as gifts and her collection multiplied, well, like rabbits. Now she collects angels. She told everyone that she did not want angels as gifts. She buys one angel a year when she goes on vacation and she decides what is in her collection. Because she is the only one who adds to her collection it is very small and very special to her.
4) Display space. My tea cups and saucers are easy to collect and could even be considered useful. However, I limit my collection to one display case that my father made for me. Since it is full, I consider the collection complete, but if I found a tea cup I couldn't resist I would have to make space for it by removing another one. By giving a collection a certain area you are able to maintain the collection and enjoy it more because it looks like a collection. Your house should not be considered a defined space.
5) Size. I collect pressed pennies. Fifty or so fit into a booklet. I could have hundreds of pressed pennies and my collection wouldn't take up much room. I used to collect nutcrackers. If I had kept hundreds of nutcrackers I would have needed a bigger house. When you are starting a collection consider collecting something small. If you have a choice in size, like with Vinylmation figurines, consider collecting the 3 inch dolls and not the 9 inch ones. The enjoyment of the collection is not based on the size of the object, but on the value you place on the collection.
So have fun collecting, just make sure your collection is more of a joy than a stress. If you really need to immerse yourself in everything Disney has to sell, consider taking a trip to a Disney park and window shopping. It's there for your enjoyment and you don't have to dust it. Happiness squared.
Goofy Tip: If you have no space for a collection, or if you really want to declutter, consider collecting memories instead of things. You can take a picture or write in a journal, but your memories can be just as enjoyable as an item you can buy and you can take them with you anywhere.