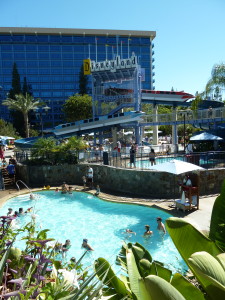 I often talk about the importance of feeding your family often while at the Disney parks. I have noticed a direct correlation between hunger and grumpiness. Well, hunger is not the only problem your group can have. Tempers get hot as the temperature goes up. If the people you are traveling with are feeling the heat than trouble is brewing.
When I lived close to Disneyland I usually visited in the winter and spring when the crowds were less and the weather was nice. But lots of people visit during the summer. The combination of crowds and heat can wilt the most enthusiastic Disney fan. Below I list five ways you can keep your cool even on the hottest days. Some of these ideas work no matter where you are. So stay cool and read on.
5 ways to stay cool while visiting the parks on hot days:
1) Ride the right rides. Big Thunder Mountain is a great ride, but I would not want to ride it in the heat of the day. Instead head for rides that are 1) Dark rides with cool interiors 2) have indoor lines or 3) are water rides. Some great examples are Peter Pan's Flight, Space Mountain, Pirates of the Caribbean, and Splash Mountain. Save rides like Mad Tea Party and Autopia for early mornings or night. Another cool idea is to head over to Epcot. You can enjoy several rides, and even a nice meal inside the various pavilions in Future World.
2) Drink lots of water. If you stay hydrated you'll have a much better vacation. I once got dehydrated and couldn't enjoy a meal at Club 33. What a bummer. Don't blow your budget by buying water. Instead bring water bottles for everyone and refill as needed.
3) Escape during the afternoon. If you are staying on property this is easy to do. You can relax in your air-conditioned room, enjoy a drink in the many lovely lounges, or splash in the dozens of themed pools found at the resorts. You'll be cool, rested, and ready to deal with the crowds during the much cooler evening.
4) Apply sunscreen often. Nothing ruins a trip more than a bad sunburn. To avoid this apply sunscreen thoughout the day, not just in the morning. There are lots of great products out there that make this task much easier. I like the sprays the best because I hate the thick lotions that never seem to rub in. You don't need to be obsessive, but if you apply after every meal you'll be glad you did.
5) Seek shade or water. When there are tons of people in the parks it may be stuffy indoors and too hot in the sun. I suggest two things. Find shade or find water. There are lots of water sprays and fountains set up in the parks so you can get soaked and cool off. A table in the shade may be just as cool as one inside if the restaurant is crowded. Also, some restaurants, like the Hungry Bear Restaurant in Disneyland's Critter Country have lots of covered seating. Since it is by the water it feels cooler.
If you know you are going to be visiting on a hot day it pays to prepare ahead of time. Your goal is to keep cool, calm, and collected so what you remember is your fun vacation, not the awful heat. And remember, when tempers are hot you can always cool everyone down with a Mickey ice cream bar, or my favorite, a chocolate-covered frozen banana. Just beware of brain freeze. Happiness squared.
Goofy Tip: If you are traveling with kids and you are going to the parks on a hot day have your kids wear their swimsuit under their clothes. Then, when they want to run though the fountains or the spray they can play in their swimsuits and have dry clothes for the rest of the day.