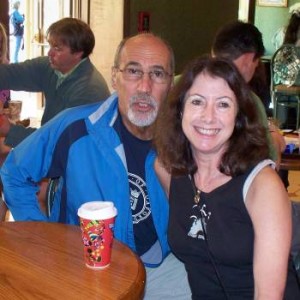 There are three types of photographers: people who never take pictures, people who point and shoot, and people who take their time to get the best photos possible.  I have friends who never take any pictures and I have other friends who take twenty minutes to set up a picture. Me, I'm a point and shoot sort of person. But just because I don't take the time to set up a picture doesn't mean I don't want great photos.
The best thing that ever happened to the quality of my photos was the digital camera. Since I am not concerned about wasting film I take a ton a pictures. I may delete 75% of them, but most of the time I can get at least one perfect shot.
This posts probably won't help the uninterested and the experts, but for the rest of us I have five tips to help you get the perfect Disney picture.
5 tips to get the perfect Disney picture:
1) Take A LOT of pictures. As I said above, using a digital camera has allowed me to take more pictures, but I don't just take pictures of a lot of different things. Sometimes I take lots of pictures of the same thing. By changing the features on my camera I can get different styles of the same object or scene. Some will be better than others, but that's okay. I'll just delete the ones I don't like. I especially do this on Kilimanjaro Safaris. When I see an animal I take a lot of pictures in a row. With the bouncing vehicle and moving animals the more pictures I take the more likely it is that one of the pictures will be perfect.
2) Take pictures with people in them. When your friends and family  look through your photo albums they focus on the pictures of people. You may be at Walt Disney World, but the people you are with provide the best memories. So take lots of pictures with your group in it. Mix it up. Take pictures of individuals and groups, large and small. Take posed pictures and spontaneous pictures. Get in front of your group and take pictures of them walking and laughing. Active photos are my favorite.
3) Take pictures without people in them. I know I just said that pictures of people are what people look at, but consider your photo album for a moment. Whether it is traditional or digital you will probably have a cover page and blank places that need to be filled. Scenery or object pictures can be perfect for these spots. Add journaling and a scenery photo can tell the story of your Disney vacation.
4) Take pictures of nothing. I don't mean to take pictures of the pavement (unless you want to). I mean take pictures when nothing is happening. Take pictures when you are waiting for the bus, or standing in line, or taking a break from the day. These are times when people are slowing down and they can be easily captured on film. Don't ask people to pose in these pictures. Just take photos without making a big deal about it. The more relaxed people are the better the picture.
5) Use PhotoPass photographers. This is the one tip that both photographers and non-photographers can use. PhotoPass photographers are stationed around all the parks. They will take your picture with their camera (a great idea for the non-photographers) or with your own camera. Either way this is great way to get your whole group in the photo. When you get home you can look at your PhotoPass pictures on the Internet. This is one of the best ideas that Disney has ever come up with.
I hope these tips help you get that perfect Disney picture. The best part about photos is that the perfect photo may not be the one that has the best lighting or the best focus. It may just be perfect because it brings back great memories. Happiness squared.
Goofy Tip: If you plan to use PhotoPass in the parks you can pre-order your package. This service is called PhotoPass+ and if you plan on using PhotoPass a lot it can be a great savings. To learn more about this new program click on the park you are planning to visit, Disneyland Resort or Walt Disney World.