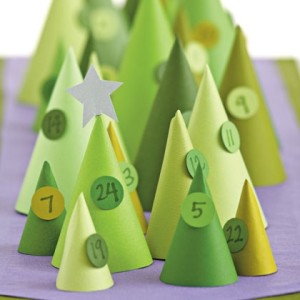 I love advent calendars. I love the idea of counting down each day until Christmas, and if there is a treat along with it than that is even better. I also love to do crafty things so when I found these advent calendar ideas on spoonful.com I was excited.
My advent calendar is a wooden tree that I made in high school. I found it again in college and turned it into an advent calendar by screwing twenty-three hooks into it and making a miniature ornament for each day. Day 24 is for the angel on top. It is fun to decorate the tree each day and a tradition that I enjoy. The paper tree advent calendar reminds me of my own tree.
My favorite one of these advent calendars is the forest of trees. It would be really fun to make the trees with the whole family. I would put a Hershey kiss under each tree and then everyone in the family could take turns removing a tree. When I was a kid we had a simple advent calendar with doors. My brother and I took turns opening the doors, but we both wanted to do the even days so we could open door number 24. I smile when I think of that.
Do you have an advent calendar tradition? If you don't perhaps you could start your tradition by getting together with your family and making an advent calendar. Then you'll have great memories every December as you count down the days, and something more to smile about. Happiness squared.
Goofy Craft: Need some Disney in your decorating? This advent calendar is full of your favorite Disney characters. I know I would have a blast opening these doors every day until Christmas.