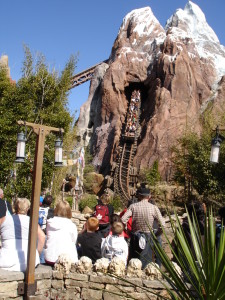 Expedition Everest-Legend of the Forbidden Mountain, the biggest thrill ride at Disney's Animal Kingdom opened today in 2006. This attraction is the reason I never miss this park. I do like seeing the animals and the other attractions and shows but Expedition Everest is something special. First, it is themed so well that I feel I have jumped continents even before I get to the line. Secondly, the initial climb takes you so high you can see the other parks. I swear I can see my house from up there. Third, you go backwards which is something you don't experience on many rides.
Expedition Everest is also an engineering marvel which I appreciate. Here are some fun facts to celebrate eight years of Yeti yells.
Five fun facts about Expedition Everest:
The mountain is almost 200 feet tall making it the tallest of all the Disney mountains. In contrast, Disneyland's Matterhorn is only 147 feet tall.
The entire attraction takes up 6.2 acres and the mountain itself covers 1 acre. No wonder I feel like I walked all the way to Asia by the time I get there.
The mountain is not Mt. Everest. It is a forbidden mountain, part of the story created by the Imagineers, meaning it is representative of mountains like Mt. Everest but it is not the famed mountain itself. Mt. Everest is actually in the background on the far right. It is the peak with no snow.
More than 1,800 tons of steel were used to build the mountain. I am speechless.
It is listed in the Guinness Book of World Records as the most expensive roller coaster in the world. Cool.
I always make a bee-line to Expedition Everest when I visit Disney's Animal Kingdom. It is so much fun. Close your eyes if you have to but don't miss this thrill ride through the land of the yeti. You'll be sure to see me there. Happiness squared.
Goofy Tip: I haven't talked about FastPass+ yet because it is still having the kinks worked out of it and there are a ton of Disney websites providing first hand information about this new program. But, if you are using the Magic Bands and FastPass+ consider choosing Expedition Everest as one of your passes. Then you can just wander the park when it opens and not hurry over to Asia.