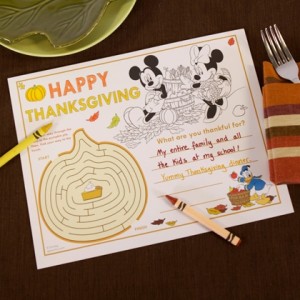 Tomorrow is Thanksgiving and I hope everyone has wonderful plans. I always liked Thanksgiving when I was a child because lots of relatives came to our house and we got to have food that I loved, but only ate once or twice a year. My brother and I were the only kids at the table and we got to sit with the adults. However, if you have a lot of children coming to your house for Thanksgiving it might be more fun for them to have their own area so they don't have to listen to the boring adults talk all night.
Why not make their table even more special by making it first a craft table and then a dinner table? They'll love coming to your house when they get to make Thanksgiving decorations for the dinner table and color fun place mats. So click here for great Thanksgiving kids crafts from spoonful.com. You'll be surrounded by grateful kids and their parents. Happiness squared.
Goofy Tip: Have you ever thought about visiting the Disney Parks for Thanksgiving? Lots of the restaurants in the parks and resorts have special menus and seating times to celebrate the day. You can have all the fun of Disney and Thanksgiving and not have to slave away in the kitchen. Just make sure you tip your wait staff well to show your gratitude. They are working so you can have a great Disney trip.