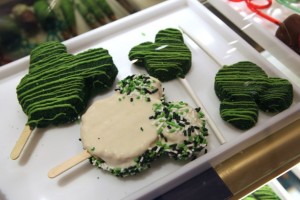 If you like to celebrate St. Patrick's Day with good food and lively music and you live near Disneyland then why not spend St. Patrick's Day at Downtown Disney? This area of the Disneyland resort is outside of the parks so you don't need an expensive ticket to enjoy the sights and sounds. On St. Patrick's Day many of the restaurants will be serving great Irish food and there will be live music throughout the evening. I like visiting Downtown Disney anytime of the year but I think tonight will be even more fun.
If you are lucky enough to be visiting one of the parks (did you find a four leaf clover?) you can enjoy a variety of green treats. I would have a hard time choosing since they all look delicious. Just be sure you wear green today. I wouldn't want you getting pinched. Happiness squared.
Goofy Food: Perhaps like me you are staying home for St. Patrick's Day. You can still enjoy good food, great music, and some green treats. Everyone in your family will have fun making these festive cookies. Share them with your friends and your luck is sure to grow.