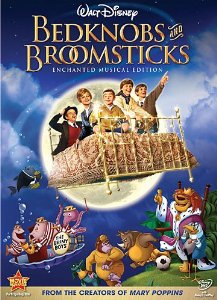 Angela Lansbury was born today in 1925. I think most people today know her from Murder, She Wrote which is still in reruns, and as the voice of the teapot, Mrs. Potts, in Beauty and the Beast. (You know, she sang that song. Yes, that one.) But today I want to suggest two other great Angela Lansbury movies to watch in honor of her birthday. Of course there are dozens of others, but I feel that these two are special, and very different from each other.
My first suggestion is Bedknobs and Broomsticks. This Disney movie came out in 1971 and it is fantastic. It's the story of three orphan English children who are moved from London to the countryside during WWII. They are forced to live with Angela Lansbury who is a witch-in-training and not interested in children. Through trial and mishap they end up saving the village from a Nazi invasion. The plot is enchanting and the music makes you want to dance. It has a bit of romance, a lot of adventure, and multiple magical rides on a bed. Rent and share it with your family. You will love it.
The next movie is Gaslight. This black and white suspense film came out in 1944. It is so good that the term gaslighting has become part of our language. If you don't know what gaslighting means you really need to see this movie. Angela Lansbury does not play one of the main characters but her role as the maid is incredible. Let's just say I wouldn't want her to be my maid. According to Wikipedia this was the first movie she acted in and she was nominated for a Best Supporting Actress Award. That's how good she was. This thrilling film is about a woman who is slowly going insane. However, is she really insane or is someone causing her to think she is insane? This is an amazing film and a must see on Angela Lansbury's birthday. I've never forgotten her acting in this film.
To celebrate Angela Lansbury's birthday, after all she is 88, watch one of her many wonderful films. I have recommended two but she has done so many more. I hope I am as spry and well-remembered when I am 88. Happiness squared.
Goofy Tip: Since Angela Lansbury played Mrs. Potts in Beauty and the Beast you could always have a spot of tea today. Or if you are lucky enough to be visiting the Magic Kingdom enjoy a meal at the Be Our Guest Restaurant. There you can try "the Grey Stuff", a dessert I can't wait to taste.