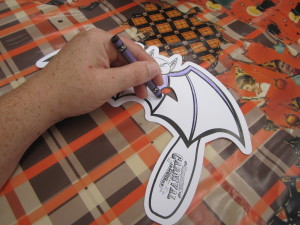 Today is Wednesday, the day where it feels like the week will never end. It's time to have some fun. Today I want to you color something. What's that you say? You say coloring is for kids? Well, you are right. Coloring is for kids and today we are going to all be kids. Walt Disney often lamented that adults forget how to have fun likes kids do. While visiting a Disney park is a great way to wake up your inner child, grabbing some crayons can do the same thing, and you don't have to leave your home or office.
So, grab some crayons, colored pencils, markers, or highlighters, anything that puts color on a piece of paper. You may be tempted to use your computer but I don't recommend it. I want you to color like when you were a child and that means by hand. If you want to you can print out a picture to color from your computer, but then step away from the keyboard.
Now that you have paper and crayons start coloring. I like to color pictures from coloring books because I am not very good at drawing, however, if all you have is a blank piece of paper, don't stress. Remember, this is supposed to be fun. Draw a pumpkin. Anyone can do that. There is no such thing as a wrong-looking pumpkin. Then draw a jack-'o-lantern face on it. Once that is done color in your pumpkin. You'll notice that as you color your mood will change. It's tough to be unhappy and color.
Once you are done display your art where you can see it. Now when you are stressed you can look at your pumpkin and relax. It may be Wednesday, but the weekend will be here soon enough. Then you'll have lots of time to color. Happiness squared.
Goofy Tip: If you happen to be at Disneyland and you want to color something, head over to the Halloween Carnival at the Big Thunder Ranch Jamboree. They have tables set up so Guests of all ages can color a Halloween mask. I colored a bat and Mickey Mouse himself told me I was doing a great job.