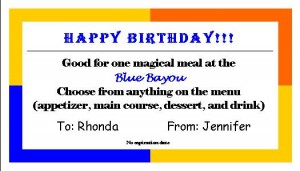 When I am planning a vacation to the Disney Parks I always ask for Disney gift cards for my birthday and Christmas. It is fun to have a little spending money on my trip and I always try to use the gift card for something special that I can tell the giver about. I also like giving Disney gift cards, but sometimes I don't want to give something generic, I want to give something for a specific event. When I need a unique gift card I make them myself.
This is so easy that I'm just going to give general instructions. For paper I use blank perforated business cards so I don't have to do any measuring or cutting. You can also use card stock of any color. Just use a business card as a size template. If you want to hand write your card then simply design it anyway you want. Tear apart or cut out your card and you are done.
It is even easier to create one on a computer. Use a business card template from your favorite word processing or publishing program (I use MS Word and MS Publisher). Delete what you don't need and add what you want. When you are done print it out on either blank business card paper or card stock. (The photo on this post shows the one I made my best friend for her birthday. She'll be redeeming her card when we are at Disneyland in September.)
These are fun and quick to make. They fit in any greeting card, and like store-bought gift cards they can be carried in a wallet until redeemed. Plus, they build excitement because the receiver knows they are going to get a Disney surprise from you. Happiness squared.
Goofy Tip: Two places where I buy Disney gift cards are at grocery stores and at Disneystore.com. Both of these places have a nice selection with lots of different characters to choose from. At Disneystore.com you can pick the amount you put on it. Now you know what to get the Disney fan in you life the next time you are stumped for a gift.