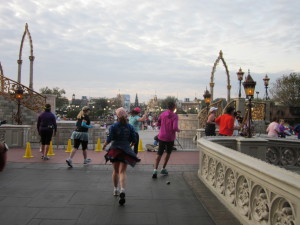 The 2014 Walt Disney World Marathon Weekend has started. For those crazy runners doing the Dopey they completed the 5k yesterday and are completing the 10k today. Now all they have to do is a half marathon on Saturday and a full marathon on Sunday. Piece of cake. I completed the Goofy in 2012, which is just the half and the full. I'd like to do the Dopey but it takes so much time away from the parks. I salute all who are attempting any of the races from the Dopey to the kid runs.
Tens of thousands of people will be participating in the Walt Disney World Marathon Weekend. Some of them will be in great shape and finish with amazing times and some of them will be just like you and me. The only difference is they decided to run a race and you haven't.
Why haven't you? Whether you run or walk completing a race is fun. The pre-race atmosphere is electric with nerves and dreams. The race itself is impossibly hard and you are convinced you'll never do it again. But the post-race area is the filled with tears and smiles and promises of doing better the next race. There are few activities that can match the thrill of a race.
Don't believe me? It's still January. Make a resolution to sign up for a race and train for it. My first race ever was the Portland Marathon and while I know you should start small I am glad I started big. It started me on my running journey.
Good luck to everyone racing this weekend. And to those who will be out on the marathon course for 6 hours and 49 minutes like I was, there is a finish line and Mickey is waiting for you. Happiness squared.
Goofy Tool: Do you feel like you need a magic feather like Dumbo used in order to run? How about a magic running shoe? New Balance has a line of Disney themed shoes that are amazing. You can pick from Sorcerer Mickey, Minnie Mouse, Goofy, or Cinderella. I would have such a huge smile on my face wearing these shoes that my aches and pains wouldn't have a chance to stop me.