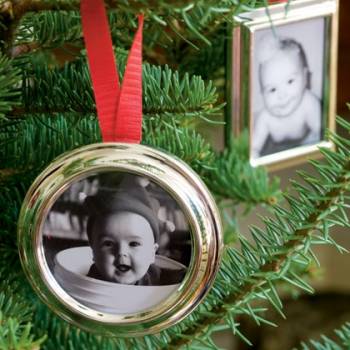 I was at Fred Meyers on Saturday and was overwhelmed with the merchandise displays. They set out dozens of red and green shelves filled with gift ideas ranging from impossible-to-solve wooden puzzles to huge TVs. I came in for a couple of items and felt barraged by stuff that I knew no one would want but was so tempting to buy. I escaped from the  madness and felt vaguely sad at the way they were pushing all those unwanted gift ideas on me.
Almost everyone on my list, especially my parents and in-laws, have a ton of stuff in their homes and don't want anything more. This makes it very hard to buy for them. I don't want to give them something that they have to dust, but I do want to give them a gift that they will appreciate and enjoy. I have found that gifts that include photos fit the bill perfectly.
My favorite photo gift idea this year came from spoonful.com (where else?). Why not make a collection of Christmas ornaments using small frames and favorite photos? They look awesome on the tree and can also be displayed year round if desired.
To decide on which photos to put in the mini frames I would pick a theme. Spoonful.com suggests using baby pictures of everyone in the family. You could put school pictures in, too. But if you vacationed in the Disney Parks this year, why not use photos from your trip? These photos are always full of great memories and happy people and would look very festive on a tree. If you write the date of the trip on the back of the frames then the photo ornaments will become a reminder of the trip that everyone can talk about year after year.
So avoid the pushy gift trap at the stores this year and give a gift that will bring a smile to someone's face. Photo ornaments don't take up any room, don't have to be dusted, and are the perfect size for anyone. Happiness squared.
Goofy Tip: I love looking at all the character ornaments when I visit the Disney parks, but they are rather expensive. You can have an ornament that reminds you of your trip and save some money by making a set of Disney photo ornaments for your own tree. For a clever twist find small circular frames in two sizes and clue them together to look like Mickey Mouse. Slip in three fun photos and you'll have a Hidden Mickey nestled in your own tree waiting to be found.