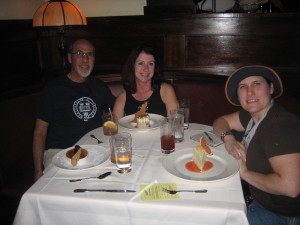 I listen to lots of Disney podcasts and read lots of Disney blogs because I love learning as much as possible about the parks. I'm not too picky about the look of the blogs as long as there is lots of information. However, I am very picky about my podcasts. I don't mind if podcasters complain about Disney, but if the negativity is constant than I delete that podcast from my iPod.
I recently tuned into a podcast connected to a blog I've been reading for a while. I enjoy it so much that I want you to check it out. It's called the DFB Podcast. DFB stands for Disney Food Blog, a blog filled with up-to-date Disney dining information.
I give lots of advice on A Goofy Idea and I am glad you read it. However, I do not visit the parks often enough to eat and review every restaurant. That is why I read the Disney Food Blog. They give me all the information about Disney dining that I could ever want. I get the same great information from their podcast, too. Here are five other reasons to check out the DFB Podcast.
5 reasons to listen to the DFB Podcast:
1) The podcasters are happy! There is so much negativity in the world that it is refreshing to hear laughter along with good information.
2) The information is timely. Disney restaurants change all the time. The DFB Podcast starts each episode with all the current dining news.
3) I learn about fun things to add to my Disney bucket list. A recent episode reviewed the dinner shows at Walt Disney World and the Disneyland Resort. I had only been to one and now I have a list of others that I want to try.
4) The podcast isn't too long. I listen to around 30 podcasts every week. Some of them drag on and on. I liked the DFB Podcast because when it was over I wished there was more to listen to. At around 30 minutes it fits well into my schedule.
5) They have a trivia contest. A fun way to learn Disney trivia is to have a contest. Each week they ask a question and invite listeners to try an answer it. There is even a prize.
If you are planning to visit a Disney park soon you should definitely listen to the DFB Podcast. If you need a reason to visit (I now have lots of reasons) than take a listen to this fun, informative, and totally Disney podcast. Happiness squared.
Goofy Book: The Disney Food Blog editors have published a 400 page ebook called The DFB Guide to Walt Disney World Dining. It is updated for 2013 and has tons of tips on where to eat and how to save money. It sells for $18.95 and you can order and download it at dfbguide.com.



For great tips that you can take with you on your tablet or smart phone download the Kindle app and buy a copy of Goofy Tips for a Happy Disney Vacation
. For 99 cents you'll have hundreds of great ideas for visiting the Disney Parks only an app away.