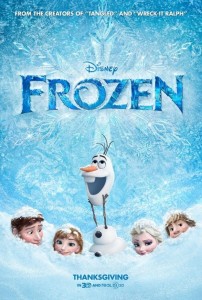 Disney has a new animated movie coming out this Thanksgiving and I for one will be in the theater watching it. The preview has come out and it looks really funny. The movie is called Frozen and has some similarities to Tangled, which I adore. Watch the preview here and let me know what you think.
This film appears to have lots of aspects that I love in a movie: feisty heroines, humorous dialogue, and interesting settings. It has one thing that I don't like…snowmen. In this case one very cute snowman named Olaf. I believe the point of the story is to find a way to get rid of the snow that has covered the country. That is a great idea, but what happens to Olaf? I'll tell you what happens – he melts. And when he melts I will cry. Thanks Disney. Oh well, I cry in every Disney movie. Why should this one be any different?
So check out the preview and join me in November for what looks to be a fun, lighthearted, charming movie. It will make a nice contrast to Thor: The Dark World, which I am also seeing in November. Happiness squared.
Goofy Blog: If you want to know more about Frozen, check out this post by thedisneyblog.com. It sounds like a lot of people with a lot of great movies under their belt were involved in making this film. I call that a good sign.