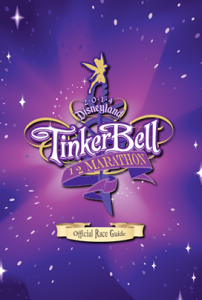 Just last week I was congratulating everyone who was running at the Walt Disney World Marathon weekend. This week I congratulate everyone who running this weekend at the Tinker Bell Half Marathon Weekend at Disneyland. I have not run this race yet, but I plan to do it next year. Unfortunately, I won't be able to run in southern California in January, which seems like a really nice time of the year to run there. Instead I'll be running in May because the Tinker Bell race is moving in 2015. But for this year people can enjoy running in the cool winter weather.
One of the great things runDisney does is race challenges. You can earn a ton of medals by running more than one race in a weekend. However, in 2014, there is no race challenge at the Tinker Bell races. I hope they are planning a challenge for 2015 because I really want to run both the 10k and the half marathon. However, you can earn a pink coast to coast medal if you run the Tinker Bell half marathon and the Princess half marathon in 2014. Even if you just do one race it is sure to be a magical time filled with lots of pixie dust. Happiness squared.
Goofy Tip: One of the fun things to do while at the expo is buy a cool running item to commemorate your race. Unfortunately a lot of the race items are a little loud and you only want to wear them when training for a race. But the Tinker Bell merchandise is really nice. I hope the selection is this good in 2015. Come run with me. We can buy matching tank tops.