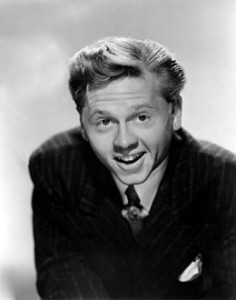 Mickey Rooney died April 6, 2014. He was 93 years old and had an incredible acting career that spanned most of his life. As I was looking through a list of his movies I learned that he was one of the voices of Oswald the Lucky Rabbit. Walt Disney created Oswald so that means Mickey Rooney worked with Walt Disney in the early days, right? Actually, no.
In 1928 Walt Disney lost Oswald the Lucky Rabbit to his producer, Universal. If he hadn't we wouldn't have Mickey Mouse so it was probably a good thing even though it must have been upsetting for Walt at the time. Even though Walt wasn't animating Oswald any more Universal made almost 200 Oswald cartoons in the 1930s. Mickey Rooney was the voice of Oswald from 1931 to 1932. He was 11 years old.
Mickey Rooney acted until his death and even though he missed working for Disney with Oswald he did act in other Disney movies. He was the voice of Tod in the Fox and the Hound and he had a part in Pete's Dragon and the 2011 Muppets movie. Mickey Rooney had an impressive career and will be memorialized on the silver screen. Happiness squared.
Goofy Tip: In 2006 the Walt Disney Company made a trade and acquired Oswald the Lucky Rabbit once again.  Since then he has joined Mickey Mouse in the video game series Epic Mickey and some of his cartoons have been restored. In the parks you can buy Oswald ears (they're really big) and Oswald T-shirts. At Tokyo DisneySea you can even meet Oswald. He must have nine lives. I wonder if he is part cat.