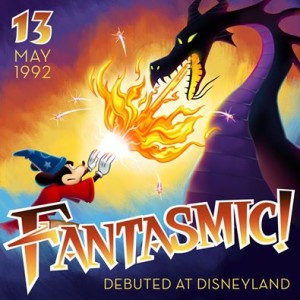 Fantasmic! debuted at Disneyland in 1992. I can remember Tom Sawyers Island before Fantasmic! (and before the pirates took over) but my best memories are of seeing Fantasmic! the first few times. The music was enchanting, the story was magical, and the dragon was totally new. Even when I had to stand on my tiptoes to see the show (I've always been short) I never missed it.
Fantasmic! now plays at both Disneyland and Disney's Hollywood Studios. The shows are not identical but they are similar. The biggest difference is the location. Fantasmic! at Disney's Hollywood Studios has its own outdoor theater. This is nice because everyone gets a seat and a good view, but I still like Disneyland's version the best because of the boats. Both the Sailing Ship Columbia and the Mark Twain Riverboat are used in the show and it is really cool to see these huge ships lit up and filled with Disney characters.
If I was to make a list of top ten things to see at the Disney parks Fantasmic! would be number one on that list. New shows have been designed but since 1992 Fantasmic! has always been the best. Happiness squared.
Goofy Tip: If Fantasmic! is playing twice when you are at Disneyland consider seeing the second showing. People start finding seats for the first show hours before it starts but when the first show is over the Cast Members clear the area before allowing Guests in for the second show so you don't have to wait as long to find a good spot. I waiting at the rope about fifteen minutes and was able to get a spot front and center. I would never have had such a good view if I had watched the first show.