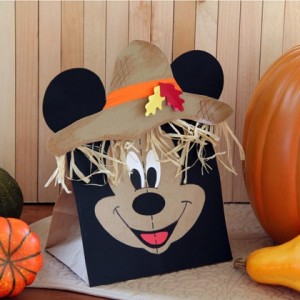 Daylight savings time has come to an end for most of us. What I notice most is how it is dark before six o'clock. And the evenings are getting longer every day. It is time to find fun indoor activities that allow you to stay warm and keep the boredom at bay.
Since Thanksgiving is only two weeks away I thought this would be a good time to make some decorations for the season. Christmas may be in all the stores but wait until after Thanksgiving to decorate your house. Instead make some fun fall decorations featuring your favorite Disney characters.
These printables by spoonful.com have a great variety of ideas. One night you could make a fun Mickey scarecrow and the next you could color a Winnie-the-Pooh picture. By Thanksgiving you will have the best decorated house in town. My favorite idea is the silhouette lanterns. You can choose between Bambi, Winnie the Pooh, and Lady and the Tramp (guess which one I am picking). Place a battery-operated tea light inside it and you'll have a lovely decoration to keep the darkness away. Happiness squared.
Goofy Food: When you are not making fun crafts why not head to the kitchen and make something with the perfect autumn ingredient…pumpkin! Spoonful.com has over forty pumpkin recipes for you to try. I can't decide which one to make first.