I just got back from a great trip at Walt Disney World. Because I was running in the marathon I had to be outside at 3:30 a.m. some days. Other days, when we were visiting a park that had morning Extra Magic Hours, we were out and about as the sun was rising. We explored the parks all day long, from morning to afternoon. And more than once we were in the parks late at night. (And yes, we got lots of sleep, too.)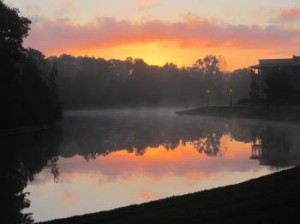 What I noticed as I was out and about day and night was how different the parks looked at various times. We stayed at the Port Orleans Resort – French Quarter and the sunrise coming up on the Sassagoula River transported us to a different place and time.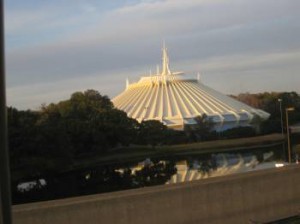 There had been a cold spell before we arrived, but the days got warmer throughout our stay. During the first few days the sky was clear and our pictures were crisp. I love taking pictures of the castle with a clear blue sky in the background.
Later in the trip that changed. Even though it was once again shorts weather there were some wispy gray clouds that diffused the sunlight in the parks. We felt that we had entered a golden world filled with magic.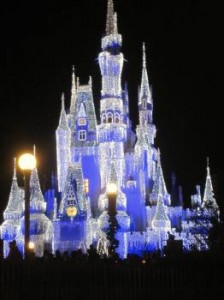 We would never miss the fireworks at the Magic Kingdom, but seeing the castle at night was a real treat. You do not want to miss out on this enchanting sight. I wished I was a princess and that I lived in that castle. That would truly be happiness squared.
So, if you're an early bird stay out late one evening, and if your day never starts before noon set your alarm for an early morning stroll. Happiness is experiencing new things and happiness squared is experiencing the familiar in a new way.
Goofy Tip: Take lots of pictures. Take more than you think you need. Take pictures of people. Take pictures of signs. Take pictures of scenery. Take pictures of clouds. Take good pictures. Take bad pictures. You can always delete them later. No one gets home and says, "I took too many pictures."