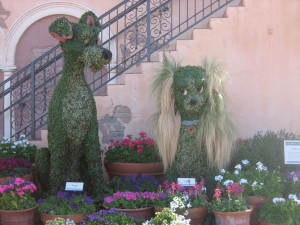 The 2014 Epcot Flower and Garden Festival starts today. This event runs through May 18 and offers lots of visual wonders for everyone who walks around Epcot and World Showcase. There is a lot more to do than just look at pretty topiaries although I love seeing all the green statues. There are food kiosks that feature farm fresh ingredients, and for those who have a green thumb and want to learn more about gardening there are also classes on many different topics. It's safe to say there is something for every Guest.
If you are visiting Epcot during the Flower and Garden Festival check out The Everything Guide over at touringplans.com. This website is known for giving you all the information you need to plan the best trip possible. Whether you just want to admire the topiaries or learn how to make one for your own magic kingdom this post has all the answers. Happiness squared.
Goofy Tip: Even if you don't plan to experience the Flower and Garden Festival when you visit Epcot plan more time than you normally would. The topiaries are really fun to look at and you'll probably want to take pictures of your favorite characters. Don't rush and you'll enjoy your day more, even if all you do is look at bushes.