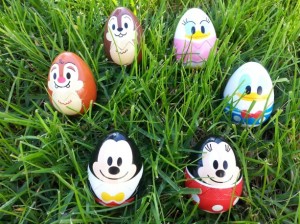 As a child I loved hunting for Easter eggs. We always spent Easter at my grandparents' house in Lake Havasu, AZ. My brother and I would wake up Easter morning and hunt for Easter eggs. The coolest part was that we didn't just have one hunt, we had two. The first hunt was inside for candy eggs. Grandma kept these eggs from year to year so we never ate them. We also found our Easter baskets as we hunted for these colorful candies. After we found them all we would go outside. Our second hunt was for the real eggs that we decorated the day before. It was safer hiding them outside in case we didn't find them all. That Easter Bunny is no fool. I love hunting for eggs and am thrilled that I can soon hunt for Easter eggs at the Disney parks.
From April 10 – 20 Guests at Epcot, Disney California Adventure, and Disneyland can purchase a map for five dollars and then hunt for eggs around the parks. When you find an egg you put the matching sticker on the map showing where you found it. Once you have found them all you can turn in your finished map and get a surprise. (I have no idea what the surprise is but I want to do this soooo bad.)
This sounds like a fun way to slow down and explore the park, especially for people who tend to run from ride to ride. The eggs are decorated like Disney characters and are really cute. And like Easter morning at my grandparents' house if you are visiting the Disneyland Resort you can do two hunts for twice the fun. Happiness squared.
Goofy Tip: For more scavenger fun you can have an egg hunt in your hotel room. Buy some plastic eggs and put a small Disney surprise in each. Then hide them around the room and have the kids find them. This is a good activity when it is too early to go to the parks but the kids are wide awake and too excited to sit down. Okay, maybe I am describing myself.