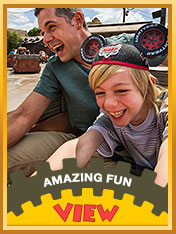 One of the many promotions that Disney is doing through Limited Time Magic is worth mentioning again. They are giving away a trip to a Disney park every day in January. Everyone can register once a day to be eligible for the drawing. I've been signing up every morning. It takes me about 1 minute. I haven't won yet so I thought I would encourage all of you to register. It would be awesome if one of my readers won a trip.
Go to this website to see all the different trip packages that are available. If you win a trip you can change your mind about which trip you want to experience so pick a different one every day if you want. There are trips designed for families with little kids and families with teenagers. There is even a romantic trip for couples. I keep picking the Amazing Fun option because it includes the Wild Africa Trek tour that I really want to experience.
There is still a week left in January. Someone is going to win a trip to a Disney park every day. It could be you. Be sure to leave a comment in you win. Happiness squared.
Goofy Website: You will have a hard time planning a trip around the Limited Time Magic promotions because they are revealing them very close to the date they are happening. But if you want know what to expect in the next month or so you can check out the Limited Time Magic calendar. I like to be surprised when I visit the parks and I can't wait to learn to see what magic is planned next.