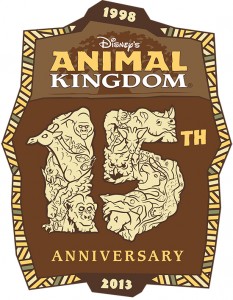 One of Walt Disney's dreams was to have an attraction in his parks that used live animals. His dream came true on Earth Day 1998 when an entire park was build around his idea. Disney's Animal Kingdom combines fun rides with awesome views of animals in wild surroundings.
The first time I visited Disney's Animal Kingdom I was not impressed. There was not much to see, the lines were long, and the park seemed rather boring. I have since changed my mind. This is a park that has grown and improved over the last 15 years and now I never miss it.
5 reasons I always visit Disney's Animal Kingdom:
1) Expedition Everest. I like roller coasters, but Expedition Everest is something special. Besides the fact that it is a fast thrilling ride it takes you to such heights that you feel like you are climbing Mt. Everest. The theming in the queue helps bring you into the adventure. And this ride goes backwards, which is just another reason that it is always my first stop.
2) Kilimanjaro Safaris. I've been on lots of safari rides throughout the United States but this is the only one that tells a story. I like the adventure that the story provides and I also like the effects that have been added to make you feel like you really are on an African safari. But my favorite part is the animals. It seems that every time I go on this ride I see more and more variety. It is an amazing attraction.
3) Festival of the Lion King. Disney creates great shows, but this one is Broadway worthy and I never miss it. The music is powerful, the stunts are thrilling, and I love the fact that the audience is included in the show. Oh, and did I mention the costumes. Incredible! This show is moving to a new location in the park to make room for Pandora (the world of James Cameron's Avatar) and I am sure it will be more amazing in a new theater designed especially for this show.
4) Asia and Africa. Disney is an expert at theming an area so you feel like you are in a different place and time. The best example of this is Asia and Africa at Disney's Animal Kingdom. When you enter Asia on your way to Expedition Everest you feel like you have entered another world filled with exotic smells and unusual items.  I always think this is what explorers must encounter as they head out to climb Mt. Everest. It even feels cooler.
Africa may be next door, but you will feel like you have left one continent and landed on another. This land always has a busy feel about it and you can sense the unrest as cultures are changing. It is much warmer and noisier. I like to grab a snack and absorb the energy as I take a break.
5) Pangani Forest Exploration Trail and Maharajah Jungle Trek. It's fun to see animals from a vehicle, but when you take these two animal walks you get to see the animals up close and learn more about them. I never miss Pangani Forest because I love to see the swimming hippos. And I love getting close to the tigers on the Maharajah Jungle Trek. They live among the ruins of a palace and I always feel like I have entered the Jungle Book. Awesome.
To celebrate 15 years Disney's Animal Kingdom is having a week long celebration. There will be special ceremonies and parades along with lots of educational booths to explore. A commemorative map will be passed out and special merchandise will be for sale (I really want the safari hat.) For all the details check out touringplans.com. When I was a kid I used to go to Disneyland anniversary events and I really wish I could be at Disney's Animal Kingdom this week. I look forward to visiting Disney's Animal Kingdom for the next 15 years. I'm sure it will only get better and better.
Goofy Tip: I always encourage everyone to try every attraction at least once and that includes Expedition Everest. This is an amazing roller coaster but I know a lot of people who close their eyes and wait for it to end. If you do than you'll miss an amazing sight. As you climb the mountain at the beginning of the ride keep your eyes open. The view from the top is spectacular! You can see much of Walt Disney World and all of Disney's Animal Kingdom. Okay, now close your eyes.