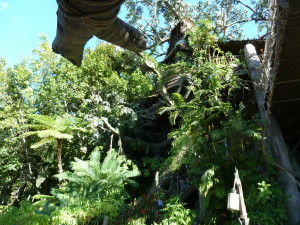 Today is Arbor Day so be sure to hug a tree. I tried to find out how many trees were growing at Disneyland but I had no success so instead I'm going to tell you about the first Disney tree to "grow" at Disneyland.
This tree wasn't grown from a seed. Instead it was built with metal and concrete. It is the Disneyodendron Semperflorens Grandis, but you may know it as Tarzan's Treehouse. If you are older you may remember that it was once the home of the Swiss Family Treehouse and in the Magic Kingdom it still is. (I wish it still was but I'm trying to get over it.)
Five fun facts about Disneyland's Disneyodendron Semperflorens Grandis:
1) Guests started climbing through the Swiss Family Treehouse on November 18, 1962. It closed in 1999 and reopened as Tarzan's Treehouse.
2) This tree weighs about 150 tons and stands about 70 feet tall.
3) It has 306,000 vinyl leaves. Many of the leaves were replaced when the attraction was re-themed to give it a more jungle look.
4) Disneyodendron Semperflorens Grandis means large, ever-blooming Disney tree. I think large is an understatement.
5) Hong Kong Disneyland also has a Tarzan's Treehouse attraction, but theirs is on Tarzan's Island which is like Disneyland's Tom Sawyer Island.
If you want to go to Disneyland and hug the rare Disneyodendron Semperflorens Grandis I would gladly go with you. Perhaps in honor of Arbor Day we could each plant a tree instead. It may not be a Disney tree but it will be special none the less. Happiness squared.
Goofy Trivia: When you think of Disney man-made trees you probably think of the Tree of Life at Disney's Animal Kingdom. This tree is much larger than Tarzan's Treehouse. It is 145 feet tall and has 325 animals carved into the trunk.