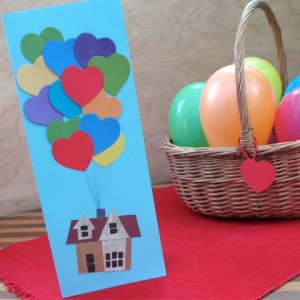 It's February, the month of love. While it is easy to buy a box of cards from the grocery store I find that a homemade card is more appreciated. It you love the person enough to give them a card why not have some fun and make them something special. If the special person in your life loves Disney then these cards from spoonful.com will brighten their day.
Up is not my favorite movie but this house card with the heart-shaped balloons is really sweet and Up is definitely a movie about the power of love. If you have a heart-shaped punch this is an easy card to make. I think it would be fun to use a picture of your house or the recipient's house instead of a made up house.
You are never too old to send Valentine's Day cards. Your loved ones will be thrilled to get mail that isn't credit card applications. Happiness squared.
Goofy Quote: If you are having a problem thinking of something to write inside the card consider these romantic quotes from various Disney movies. I've listed a few here but babble.com, a Disney website, has a more complete list.
"I knew at once you were meant for me, deep in my soul I know that I'm your destiny." Mulan

"You're the best thing I never knew I needed." Princess and the Frog

"From this day now and forever more, you'll be in my heart." Tarzan