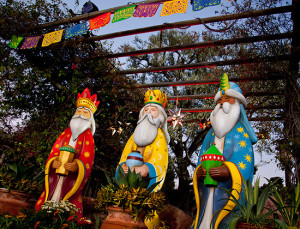 Did you know that Monday is Three Kings Day? Did you know that January 6th is the official end of the Christmas season? The song The Twelve Days of Christmas is about the 12 days between Christmas and Three Kings Day. This day represents when the three kings arrived to see baby Jesus. And did you know that Disney celebrates this holiday in style? Come along to Disney California Adventure and check it out.
From January 3 – 6 Disney is capping off the Christmas season with a festive party in Paradise Gardens at Disney California Adventure. There will be lots of great food, decorations and entertainment. This holiday is not as popular as others so I think it is cool that Disney is bringing it to life. Happiness squared.
Goofy Tip: If you are at Walt Disney World on January 6 head over to the Mexico Pavilion in Epcot where you will find great food, decorations, and entertainment keeping in the spirit of Three Kings Day. The food is good all year long so be sure to stop in.