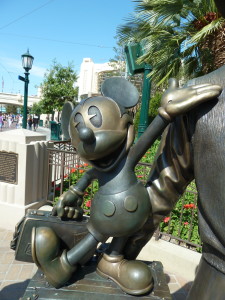 Disney is one of the largest employers in the United States and I bet they have are a lot of jobs we've never heard of. That is why Every Role a Starring Role on the Disney Parks Blog is one of my favorite features. I think it is neat to honor the employees who make the parks as clean and well-managed as they are.
Have you ever heard of a Merchandise Presentation Manager? I had not. I was once the merchandising supervisor at Borders Books but my job wasn't nearly as creative as this woman's job. I had to put the books on the table following a chart. Every table in every Borders Store looked the same. The Merchandise Presentation Manager at Disney California Adventure gets to make the displays blend in with the surrounding area. She does this with props and of course with awesome merchandise. I think it would have been fun if I could have used bloody knifes or magnifying glasses to add a bit of theming to a display of mystery books.  Or perhaps I would have added roses and a box of chocolates to a romance book display.
Check out this video from the Disney Parks Blog to learn all about the Merchandise Presentation Manager. I think her job sounds like fun but I am amazed at the number of stores she has to oversee. It must keep her very busy. Plus I don't know how she resists buying one of everything. Happiness squared.
Goofy Tip: If you have ever been to a non-Disney amusement park it becomes very obvious that the Disney employees do their job better than anyone else. Why not take a moment as you are leaving the park to leave a positive comment about a Cast Member you noticed in the park. All you have to do is go to City Hall and fill out a quick form. People are always quick to write a complaint but it takes no more time to write a complement and a complement means so much more because it is unexpected.