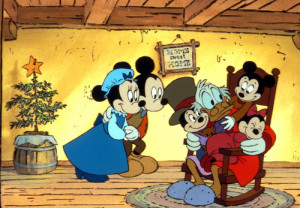 Christmas is a week away and I am very excited. This Christmas season has gone by really fast, possibly because Thanksgiving was so late so we haven't even had a full month to enjoy all the Christmas fun. Why not make a point to celebrate each of the next seven days? Celebrating doesn't have to be expensive or time consuming, although if you want to celebrate with a trip to the Disney parks I think that is a great place to soak up the Christmas spirit.
7 ways to countdown to Christmas:
1) Watch a Christmas movie with the family. Pop some popcorn and enjoy the classics. My favorite has always been Miracle on 34th Street
, but there are so many others. When I was a kid I always made a point to watch Mickey's Christmas Carol
. It is fun and spooky at the same time, and they don't call him Scrooge McDuck for nothing.
2) Make cookies with the kids. I like to make fudge but I'm sure you have a favorite recipe. If you need any ideas spoonful.com has lots of delicious ones. I love to bake but I hate having all those treats hanging around tempting me. If you have the same problem then why not package some up and share with another family. Everyone loves getting cookies at Christmastime.
3) Wear a Santa hat in public. You may not be able to wear anything festive at your work but what about while shopping or running errands. You'll find people will smile at you more and many will wish you a Merry Christmas. I love spreading a little Christmas cheer.
4) Go look at Christmas lights one evening. If you live in an area where there are lots of lights nearby consider walking around. If you have to go farther than turn on some Christmas songs in the car and go for a tour. When you get home you can enjoy eggnog and cookies.
5) Thank three people today. Feel free to do more if you like, but today make a point to look people in the eye and say thank you. If you want you could even write a quick note for them. There are people all around you who help you out year round, from bus drivers, to waiters, to mail carriers. Take time to appreciate everyone, big and small.
6) Grab your camera or smart phone and take some pictures. People always take pictures on Christmas day but with the hustle and bustle it is easy to forget. Take pictures of your tree, the decorations, and your family before the craziness starts. If you did something that worked this year take a picture of it so you remember to do it the same way next year.
7) Read a Christmas book out loud. This is a great thing to do with the lights low and the Christmas tree on. There are so many books to read from classics like The Gift of the Magi or more fun books like The Night Before Christmas. Don't overlook children's books either. I am very fond of The Night Before the Night Before Christmas
by Natasha Wing. Maybe you could buy a new book each year and build your Christmas library. Or let each member of your family pick a book to read. There is something magical about reading out loud.
There you go, seven ways to celebrate in the next week. We are often so busy that we need to take time to enjoy the season. However you celebrate make sure you take time to tell people you love them. That is the best way to celebrate the season year round. Happiness squared.
Goofy Tip: With a week left until Christmas why not ask what your family would like to do? Bring it up at your next meal and let everyone provide ideas. They may come up with plans that you never thought of and Christmas is about family too, so don't feel you need to take on all the planning yourself.