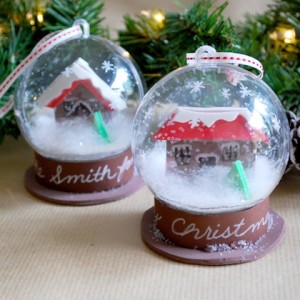 It's cold and snowy in much of the country and when kids can't go outside they are easily bored. Combat that boredom with an afternoon spent making ornaments. These 10 Disney ornaments from spoonful.com are for all ages and experience levels and perfect for a group of kids. I really like the snow globe ornaments. You can put any scene in them that you want. I have some miniature princess figurines that would be fun to include.
These ornaments are more than just decorations for your tree. You can embellish a package with them or hang them from the banister. They could also decorate a small tree in a child's room. The Mickey String Ornament would even make a nice gift for someone who loves Disney as much as you do. The ideas are boundless so start printing and get creating. Happiness squared.
Goofy Tip: If you are looking for a gift anyone would love, one that doesn't have to be dusted and goes with every tree, consider getting them a Disney ornament. There are so many to choose from and you can make it special by giving them their favorite character. I would be excited to get a Sleeping Beauty or Winnie the Pooh ornament. Which character would your family like to receive?