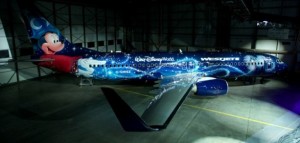 I love to fly but I know most people don't and I don't blame them. Between crowded airplanes, delayed flights, mediocre in-flight food, and TSA, flying can be a real drag. But cheer up! Mickey Mouse is bringing the magic back to flying.
WestJet (an airline I had not heard of) has added a magical airplane to their fleet. It is called the "Magic Plane" and features Sorcerer Mickey on the tail. If I saw that as I was waiting to board I would be grinning like a fool. If I knew I was flying on the Magic Plane I would be uncontrollably giddy. The magic is not just on the outside, the inside of the plane is also decorated. It looks so cool!
I am not brand loyal when I fly. I pick an airline based on price and time of departure. But if I could guarantee that I was going to be on that plane I would definitely fly WestJet. I would love it if the food was good, too, but I'm not sure even Sorcerer Mickey is that powerful. Happiness squared.
Goofy Tip: If you are flying to Orlando and staying on property at Walt Disney World be sure you use the Magical Express. You will be whisked away to your resort and you won't have to deal with your luggage. That's what I call magic.