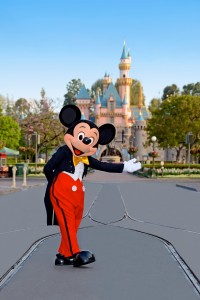 When I was a child I often brought home a Mickey balloon from Disneyland. Back then all the balloons were the same shape. All I had to do was pick a color. I always picked blue because it is my favorite color. For a week after the balloon would wander around the house floating against the ceiling. Over time it would slowly float down until its helium was depleted. I loved carrying a balloon around the park.
Every once in a while the Disney Parks Blog makes a video called Every Role A Starring Role. In their most recent one they interviewed a Disneyland balloon seller. Disney balloons have changed a lot from when I was a kid, but there is still something magical about seeing a bunch of balloons being sold on Main Street. There are lots of jobs I'd love to have at Disneyland but this one may be my favorite. No one ever frowns when buying a balloon and it is a great memory maker.
I don't buy balloons anymore because I fly to the parks but I think the next time I go I'll buy a balloon to give to someone who can take it home. Balloons just make me happy. I hope this video brightens your day. Happiness squared.
Goofy Tip: I like the traditional Mickey balloons but if you want your balloon to last a long time then buy a Mylar one. When the balloon has lost its helium you can poke it at its base with a pin and deflate it. It will then fit in a photo album or it can be turned into a wall hanging or place mat.