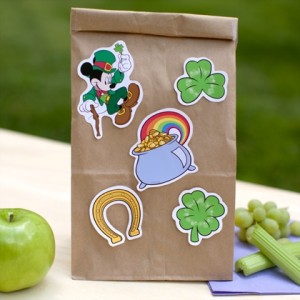 Happy St. Patrick's Day! A lucky few will get to celebrate at Raglan Road, the wonderful Irish pub and restaurant at Downtown Disney in Walt Disney World. There will be lots of beer, great Irish food, and authentic entertainment. That rest of us will just have to find our own way to bring Disney to our celebration of the green.
Spoonful.com has come to the rescue. They have a whole collection of Disney St. Patrick's Day printables and recipes that will have you seeing green. My favorite are the Mickey Mouse stickers and the fun shortbread cookies. There are enough ideas to provide hours of fun at a party or any occasion. Happiness squared.
Goofy Movie: Looking for a fun Disney movie to watch on St. Patrick's Day? I recommend Darby O'Gill and the Little People
. Not only do you get to see lots of leprechauns, but Sean Connery sings! Start a new St. Patrick's Day tradition with this classic Disney film.



For great tips that you can take with you on your tablet or smart phone download the Kindle app and buy a copy of Goofy Tips for a Happy Disney Vacation
. For 99 cents you'll have hundreds of great ideas for visiting the Disney Parks only an app away.