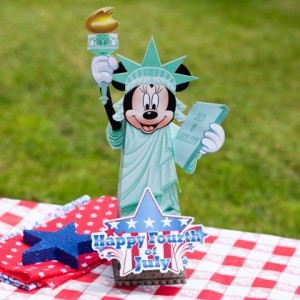 Friday is here and I feel like crafting. Since the 4th of July is next week I want to make fun decorations to celebrate. Spoonful.com has some wonderful patriotic ideas that add a touch of Disney fun to your party. You're not having a party? After you see these great decoration and food ideas you'll want to have one. Spoonful.com even has printable invitations that you can send out to your friends and family. Because nothing is as American as barbeque and Disney.
My favorite crafts are ones that are useful as well as fun and the hot dog holder fits the bill. Make a bunch of these up and your guests will feel like they are enjoying their dog at the ballpark. For dessert I would recommend the Mad Hatter cupcakes. These look awesome yet are easy to make. The Minnie Mouse Statue of Liberty makes a fun table decoration and I would set out pre-made rosettes and glue and let everyone make their own patriotic crown.
With 22 craft and recipe ideas you'll be celebrating the 4th of July in style. All you need for a memorable party is good friends, good food, and some fun decorations in red, white, and Disney. Happiness squared.
Goofy Video: If you feel like a watching a movie on the 4th of July how about something patriotic? I recommend Johnny Tremain. This Disney movie tells the story of a boy who gets involved with the Sons of Liberty and helps fight for America's independence. It is fun to watch and will help explain why we celebrate our Independence on the 4th of July.