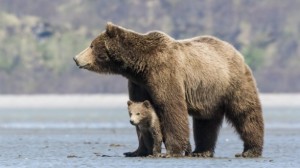 If there is one place that celebrates the Earth and all the living creatures who live there it is Disney's Animal Kingdom. Every day is Earth Day at that park. To celebrate Earth Day on April 22 Disney's Animal Kingdom is going to have a Party for the Planet. At this party you can learn how to help animals living in your own backyard. There will also be information about Alaskan Brown Bears (they are so cute!) because of Disneynature's new movie Bears that is in theaters right now. Check out this Disney Parks Blog post to learn more about Party for the Planet.
I like the idea that you can have a day of fun and learn how to help the planet. Education is better when it is entertaining and I think we would all do a better job of caring for the planet if we had fun while doing it. So why not join Disney's Animal Kingdom wherever you live and have your own Party for the Planet? Even if all you do is plant a tree or hang a bird feeder it makes a difference. Happiness squared.
Goofy App: If you want to have a safari in your own backyard download this app from Disney Citizenship. The Disneynature Explore App provides you with a digital journal and workbook so you can explore your backyard and learn about animals in your area. If you have an iPad or other tablet this app looks like a ton of fun.