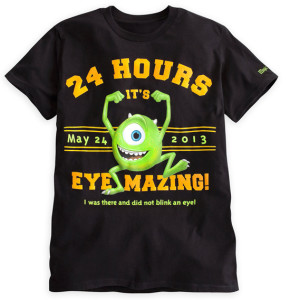 Have you ever done something for 24 hours in a row? In high school I stayed up for 24 hours to raise money for band trips. It was really hard. Today tens of thousands of people will be visiting Disneyland, Disney California Adventure, and the Magic Kingdom from 6 a.m. today to 6 a.m. tomorrow. 24 hours of Disney. I wish I was there.
Since I cannot be there I decided to celebrate with a list of 24 things we can do 24 different ways today, May 24. Do all 24 or just do one, but whatever you do have a monstrous good time.
24 things to do during the 24 hours of May 24:
1) Bake 24 cupcakes or muffins
2) Watch the TV show "24"
3) Do 24 crunches, push-ups, jumping jacks, squats, and/or lunges
4) Complement 24 people
5) Recycle, donate, or trash 24 items
6) Read 24 1-minute mysteries
7) Learn to say 24 in 24 different languages
8) Write a 24 line poem
9) Take 24 pictures of 24 different but similar items
10) Listen to 24 songs
11) Make a quilt with 24 squares
12) Play on 24 items at a playground
13) Make 24 deviled eggs
14) Take a 24 minute nap
15) Make 24 goals
16) Read 24 pages of a new book
17) Talk to a friend for 24 minutes
18) Take a 24 minute walk
19) Plant 24 flowers
20) Learn to count to 24 in a different language
21) Clean 24 items
22) Explore 24 websites
23) Listen to 24 songs
24) Visit a Disney park for 24 hours!!!
24 hours is a long time to do something, but if that something was a Disney park I think I could handle it (with a nap in the middle). Have fun today doing any of these 24 items. They take a lot less time than 24 hours. (You can even take a nap if you want.) Happiness squared.
Goofy Tip: If I were at a Disney park today I would commemorate my time there by collecting 24 special items, like pins or pressed pennies. I would try to collect one each hour. This idea works for other special days, too. Why not celebrate someone's birthday by giving them a small gift each hour? It could be a single flower or a crisp dollar bill, anything that tells the person they are thought of often.