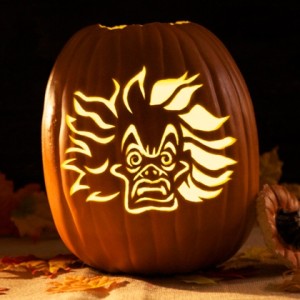 Halloween is tomorrow and nothing says Happy Halloween more than a jack 'o-lantern glowing on your porch. I always carve my pumpkins as close to Halloween as I can because they get moldy really quickly. If you have not carved a pumpkin yet, or if you want to add more to your collection (you can't have too many jack 'o-lanterns) check out these great pumpkin carving templates from spoonful.com. They are easy enough for novices to do and everyone will be really impressed with your carving ability. Happiness Squared.
Goofy Quote: (One of my favorite Halloween movies is the Adventures of Ichabod and Mr. Toad. This animated movie does a fantastic job of telling the tale of the Legend of Sleepy Hollow. Bing Crosby sings and narrates the story and it is suitably spooky. This is the last line of the film. Imagine it in a Bing Crosby's voice. I get chills just reading it.)
Next morning, Ichabod's hat was found, and close beside it, a shattered pumpkin, but there was no trace of the schoolmaster. It was shortly thereafter that Brom Bones led the fair Katrina to the altar. Now, rumors persisted that Ichabod was still alive, married to a wealthy widow in a distant county. But of course, the settlers refused to believe such nonsense, for they knew the schoolmaster had been spirited away by the Headless Horseman.