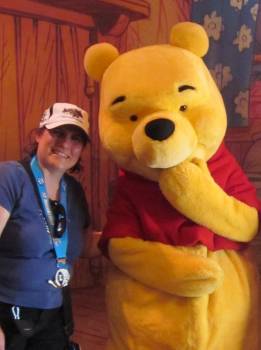 There was a post on the Disney Parks Blog about enjoying Disney California Adventure by hunting down your favorite character. I love this idea and would like to expand it further. Instead of being overwhelmed by all the merchandise and meet and greets, why not focus on your favorite character, or group of characters?
Perhaps you love Donald Duck above all others. Or you think the classic Disney Princesses outshine the more current ones. Maybe Up or Monsters Inc. is your favorite movie. No matter which one you love you can find just about every major character somewhere in the parks. Turn your visit into a hunt for these characters and the rewards will be miles of smiles (and some great pictures.)
5 ways you can hunt for (and find) your favorite character(s):
1) Look in the stores. Have you ever been to the Emporium or the World of Disney? These are gigantic stores that can easily overwhelm the most intrepid shopper. If you are focused on your favorite characters you can skim most of the store until you find the perfect T-shirt or mug. The only dilemma will be if you find more than one. My advice if that happens – ask for a second opinion.
2) Stand in line at the meet & greets. It seems there are more meet & greets than ever before with more characters to choose from. There are apps that will tell you where and when the characters will be out, or you can ask a Cast Member. Armed with this information you can get the autograph and picture of your favorite character and not bother with the rest.
3) Dine with the characters. If you go to the official Disney website, or look through Birnbaum's Walt Disney World 2013
, you will know which restaurants have character dining and which characters are seen at different restaurants. Is your character listed? Great. Make reservations for a great meal and a chance to spend some one-on-one time with your character.
4) Go for a ride. Lots of attractions are centered around movies or characters. From Alice in Wonderland to Toy Story different parks bring different characters to life. Be sure to go on those rides and you'll be immersed in your character's story.
5) Don't miss the parades. The parades and shows are full of Disney characters. Show up early to get a good viewing spot and then wave to your favorite characters. If you're lucky they may wave back.
My favorite Disney character is Winnie-the-Pooh. I always look for Pooh shirts when I go shopping. I love getting my picture taken with Winnie the Pooh (the United Kingdom Pavilion at Epcot is a great place for that). For a great meal with Winnie the Pooh I head to the Crystal Palace in the Magic Kingdom.  And the Many Adventures of Winnie the Pooh may be meant for kids, but it is one of my favorite attractions. Last, but not least, I love seeing all my Hundred Acre Wood friends in a variety of different parades.
I'm not suggesting you ignore everything else in the parks and only do a few things. I just think that having a focus can help you experience the parks in a different way. Who is your favorite character? Why not plan your trip so you get to see them as much as possible? Happiness squared.
Goofy Tip: If want to get into the Christmas mood then head over to Cars Land in Disney California Adventure. They have decorated the town with festive tire garlands, Christmas tree cones, and highway sign ornaments. Even Tow Mater has gotten into the theme of things. If you aren't going (I wish I we all were) then check out this post from the Disney Parks Blog. It has great pictures of Cars Land in all it's Christmas automotive finery. You may even find ideas for your own garage.