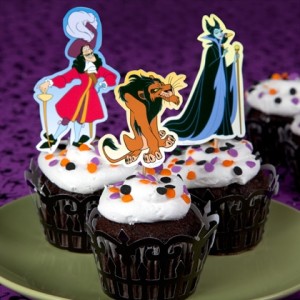 Halloween is the one time of the year when we can celebrate evil Disney villains. Why would we do this? Aren't we supposed to hate the villians? Aren't they the bad guys? Don't they mess up the lives of our lovely princesses and brave princes? Sure, but if there were no villains there would be no story. Who wants to read a story that goes like this:
Snow White had a happy life and when she was a teenager she wished for a prince. One showed up and they got married and lived happily ever after.
Boring!!!
In fact, there is probably no happily ever after if there are no villains, because without the villain the prince and princess would think life is always cheerful and they would become as bored with it as the reader does. So we should thank a villain for strengthening our favorite stories and not boring us to tears.
How can we celebrate villains? It's easy with the help of spoonful.com. My favorite idea is to make villain cupcakes with paper toppers. They would be great for a class Halloween party or a Halloween party at your house. If you are going to have a party at your house you'll need invitations and spoonful.com has some awesome ones you can print out. Why not have everyone get dressed up as their favorite Disney villain? There are a variety of masks and hats that can be made as party favors.
If you celebrated Disney villains in April it might seem weird, but October is the perfect time to show of your (slightly) evil side. Just avoid anyone who offers you an apple. Happiness squared.
Goofy Tip: Even though you don't want to accept poisoned apples I would have lots of apples at my Disney villain party. Bob for apples. Serve baked apples, sliced apples with caramel dip, and apple juice. Play pin the apple on Snow White and give apples as party favors.