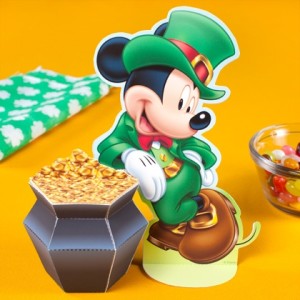 Except for wearing green (I wouldn't want to get pinched) I don't do much on St. Patrick's Day. I don't even spend much time decorating the house. However, I can't wait to make some of these fun Disney-themed crafts that I found on spoonful.com. The Mickey candy box will look cute on my desk and I'll be wearing even more green with these cute charms.
Why not spend time with the family this weekend and make some of these fun crafts and recipes? Monday is St. Patrick's Day and with these ideas you won't have to worry about getting pinched, plus you'll be sure to have the luck of the Irish when you share them with your friends. Happiness squared.
Goofy Video: While you are enjoying your Mickey shamrock shorts cookies why not watch a fantastic Irish Disney movie? Of course I am talking about Darby O'Gill and the Little People. This is wonderful movie about mischievous leprechauns and Sean Connery sings. What better reason do you need?