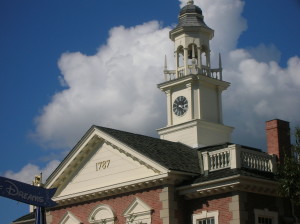 No one who knows me would say I am an adult. Well, I guess I am an adult because of my age, but I am definitely not grown-up. So how can I write a series on adult things to do in the Disney parks? I know a lot of adults and if I was visiting the parks with them I would recommend these ideas. The fun part is that the five ideas I have listed work for both grown-ups and those of us who never grew up.  My short list works for those adults who don't want anything Mickey Mouse. Why would they go to a Disney park, you ask? Because the parks are for everyone. Today we'll visit the Magic Kingdom at Walt Disney World.
There have been a lot of changes at the Magic Kingdom. Some areas have disappeared while others have expanded. Any child or adult who adores the Disney princesses will be thrilled with New Fantasyland. For more grown-up adults there are other areas of the park that are just as enjoyable. These areas may not be advertised as much but they are some of my favorites.
5 fun activities that adults can enjoy at the Magic Kingdom:
1) Skip New Fantasyland. Fantasyland has been expanded into the area that was Mickey's Toontown Fair. New castles were built and more rides and restaurants were added. This area is a child's dream come true. However, if you have no desire to interact with animated characters I would leave New Fantasyland to the children.
2) Take a spin on Walt Disney's Carousel of Progress. Being an adult does not mean not having fun. Walt Disney's Carousel of Progress is a fun ride that takes you through the history of electronics by following one family through the years. It is a great example of edu-tainment and not overly popular with children.
3) Spend some time in Liberty Square. This area is squashed between Fantasyland and Frontierland and is often missed as people rush from ride to ride. However, this land is filled with inspirational attractions and really good restaurants. Take your time looking at the Liberty Tree and the variety of quaint shops.
4) Watch the Fireworks from the train station on Main Street, U.S.A. The evening fireworks show are worth waiting for, but often great masses of Guests try to leave after the show. If that is your plan then I recommend watching the show from a spot close by the train station at the exit to the park. You can then enjoy the parks and know that you'll beat the crowds trying to get to the resort busses.
5) Choose your restaurants wisely. Since there are so many amazing restaurants at the resorts and other parks the Magic Kingdom focuses more on family fare and meals where you can meet characters. However, you will not starve if you check out The Liberty Tree Tavern or Tony's Town Square Restaurant. Delicious.
The Magic Kingdom is a lot like Disneyland and shares many of the same rides. However, it is the differences that make this park special. I love spending time in Liberty Square because Walt Disney wanted to build this area at Disneyland but it never happened. That makes this land a hidden gem. If you take the time to find the diamonds-in-the-rough you find that anyone can have a great time at the parks. Happiness Squared.
Goofy Tip: If your goal is to have a fun time at the parks without dealing with screaming children then I suggest arriving late and staying until close. Since you have no desire to ride the newest Fantasyland rides there is no reason to arrive early. Many of the children will not make it to closing so staying late means you have the the park to yourself (an thousands of other night-owls.)