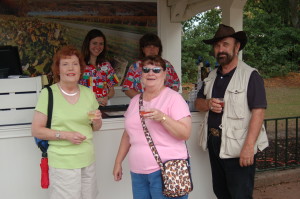 No one who knows me would say I am an adult. Well, I guess I am an adult because of my age, but I am definitely not grown-up. So how can I write a series on adult things to do in the Disney parks? I know a lot of adults and if I was visiting the parks with them I would recommend these ideas. The fun part is that the five ideas I have listed work for both grown-ups and those of us who never grew up.  My short list works for those adults who don't want anything Mickey Mouse. Why would they go to a Disney park, you ask? Because the parks are for everyone. Today we'll visit Epcot at Walt Disney World.
Epcot may be the most adult park at Walt Disney World and I don't mean that as a bad thing. Epcot is awesome, but there are lots of attractions that would not be interesting to children. However, teenagers and adults can find lots of fantastic rides and restaurants to try out. I admit that my favorite attraction is Ellen's Energy Adventure (which seems to be closed a lot) and it is not a very grown-up ride. However, for grown-ups there is a day's worth of fun. The five ideas I have listed below barely scratch the surface.
5 fun activities that adults can enjoy at Epcot:
1) Don't miss the pavilion that most matches your interest. Do you like outer space, or fast cars, or undersea animals? There is a pavilion for each of these interests. I do recommend visiting every pavilion, but if you are short on time pick the attraction that interests you the most.
2) Take lots of time to explore the World Showcase. World Showcase does not open until 11 a.m. so you can either sleep in and then explore this area or spend time in the Future World part of Epcot since it opens earlier. My family always visits Epcot over two days. We spend one day in Future World and one day in the World Showcase. There is much to see if you enter the pavilions and explore them indepth. Each country has created a wonderful world filled with great food, intriguing performances, and exhibits filled with cultural treasures.
3) Stop at the Club Cool. This is a fun place to stop as you leave Future World and head for the World Showcase, especially on hot days. You can try out different Coke products from around the world for free. They are not all tasty, but they are all worth a taste.
4) Enjoy a French pastry at Les Halles Boulangerie & Patisserie. This eatery as been expanded and I can attest that the pastries are amazing. It is a great way to get the taste and flavor of Paris without needing a passport.
5) Visit Epcot during the International Food and Wine Festival. Each fall the World Showcase becomes a smorgasbord of international cuisine and fine wines. You can buy a wrist card and try out snacks from around the world. This is a very popular event and I would suggest visiting during the week when the crowds are less dense.
I know lots of adults who's favorite park is Epcot. If you are looking for a park to take an all adult group to I would visit Epcot first. All five senses will be impressed in this community of tomorrow and showcase of the world. Happiness squared.
Goofy Tip: If you are looking for a great place to eat exit the World Showcase at the International Gateway and either walk or take the boat to the BoardWalk. This river front area has delicious high-end restaurants, unique shops, and lively entertainment. It is a relaxing place to spend a balmy evening. You'll feel like you entered another world.